DJ Zhao
from Berlin's
Ngoma Sound System
crew has been making waves with his Global Bassweight series of mixes recently. Ngoma, according to their
blog
are:
"Ngoma: Swahili word meaning Drums, Dance, and Song.
Soundsytem: The positive side of globalization-- bass culture and musical heritage fuse; ultra-modern riddims meet the wealth of local flavors; irresistable next-level urban dance music arise on every continent. India, Cuba, Tanzania, Egypt, Cape Town, these are just a few destinations where wild styles are born, crucial new scenes thrive - places out of reach to most - NGOMA ambassadors of funk bring the heat from party hotspots across the known world - the wickedest beats and sweetest flows."
Zhao's mixes effortlessly fuse the sounds of the
Global South
with UK and Eurocentric Garage, Dubstep, Grime and Funky house riddims to create a sound that straddles genres and continents with ease, dropping sonic bombs that destroy dancefloors from
London
to
Kinshasa
to
Denpasar
and
back again
.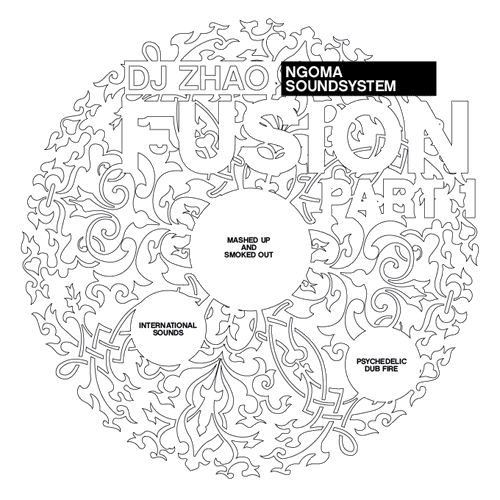 All of Ngoma's mixes are pure fire but my favourite is the Fusion Part 1 mix which takes traditional and contemorary music from places like Turkey, Indonesia, and Ethiopia and places it alongside heavyweight riddims by the likes of Pinch, Danny Weed, Wiley and Shackleton.
You can stream it from Get Darker here:

Ngoma Sound System - Fusion 1
Or you can Grab the mp3s
here (Part A
)
and
here (Part B)
TRACKLIST:
01 Intro
02 Deadbeat - Lost Luggage / Indonesia traditional - Spring Water
03 itoa - Sgt. Peppers Lonely Heart's Dub Band D1 / Indonesia traditional - Morning Sun
04 Balwinder Safri - Karve Da Din / 2562 - Basin Dub
05 Iran Traditional - Zeybek / Dj Hatcha - Chillz
06 The Mahotella Queens - Muntu Wesilisa / Wiley - Bang Bang Instrumental
07 Turkia Traditional - Kervan / L-Wiz - Fruit Shop
08 Indonesia Traditional - Sanda Kandung / Grime instrumental
09 Benga - Half Ounce / Burundi Traditional bernadette ii
10 Indonesia Traditional - Ngantosan / Mark One - Slang
11 Danny Weed - Dirty Den / Huseyin Ali Riza Albayrak - Ey Zahid
12 African Headcharge - Belinda / Blir - 19_4_04
13 Kode 9 - Magnetic City / Akhenation - 361 Degrees
14 Pinch - Qawwali / Toshinori Kondo - Fukotsu
15 Indonesia Traditional / L-Wiz - Fruit Shop
16 The Mahotella Queens - Ndodana Yolahleko / Skream - Skunkstep
17 Circle - Memo / Even Order
18 Hiripsime - ces femmes qui me ressemblent / Cyrus - Random Trio - Bounty
19 Hijak - Nightmares / ø - Toisaalia
20 Ana Whabibi - Mahmoud Fadi (interlude)
21 The Mahotella Queens - Amezemula / Iron Soul - Slo Moshun
22 African Headcharge - Run Come Saw / DQ1 - Wear The Crown
23 Indonesia Traditional - Padang Magek / Omen - Rebellion
24 Mulatu Astatge - Kulunmanqueleshi / Dj Hatcha - Just a Rift
25 Loka - Fire Shepherds / L-Wiz - Fruit Shop
26 Loka - Fire Shepherds / Dubwoofa - Devoliz
Zhao's other mixes are equally great and can be downloaded here:
DJ Zhao - Ngoma Vol 1

DJ Zhao - Ngoma Vol 2
DJ Zhao - Ngoma Vol 3